NEWS
2023
FELLOWSHIP
Carmen Amengual is a 2022–2024 Vera List Center Fellow whose fellowship project,
A Non-coincidental Mirror
, is part of the Vera List Center's Focus Theme cycle
Correction*
.
2022
GROUP EXHIBITION
Everything is Common
2021-22 Whitney Independent Study Program's studio exhibition
May 20 – May 29, 2022,
Artists Space,
New York
PUBLICATION
Everything is Common
exhibition catalogue
[PDF
available here
]
GROUP EXHIBITION
Kinetic Lullaby
Co-Curated by Alison Causer & Darla Migan
NYSS DUMBO GALLERY, Brooklyn
2021
RESIDENCY

The
Whitney Independent Study Program
, Studio program, New York
2020
SEMINAR

Carmen Amengual will be leading the seminar
Exercises in close reading: Text / Space
at
The Southland Institute
, Los Angeles
2019
PUBLICATION
Kirsten mairead Gill writes on Carmen Amengual's
Fragments from Algiers. https://island-is.land/texts/only-a-truncated-and-imaginary-vision
EXHIBITION

Only a Truncated and Imaginary Vision
,
Biquini Wax
, Mexico City
RESIDENCY

Artist in residence at
SOMA
Summer 2019, Mexico City
PANEL DISCUSSION

Lyric Poetry is Dead
. Book release and panel discussion, with Ezequiel Zaidenwerg, Carmen Amengual and Robin Meyers. Berl's Brooklyn Poetry Shop, Brooklyn, NY
RESIDENCY

Will be participating at the 2019 season of the
Mountain School of Arts
, Los Angeles
SCREENING

March, 25
7:30 PM
Screening & live reading at
The International Expanded Field
, at Human Resources, Los Angeles. Organized by Gelare Khoshgozaran and Jimena Sarno.
2018
EXHIBITION
The tenuous arithmetics of kinship
is opening this Thursday at
table
, Chicago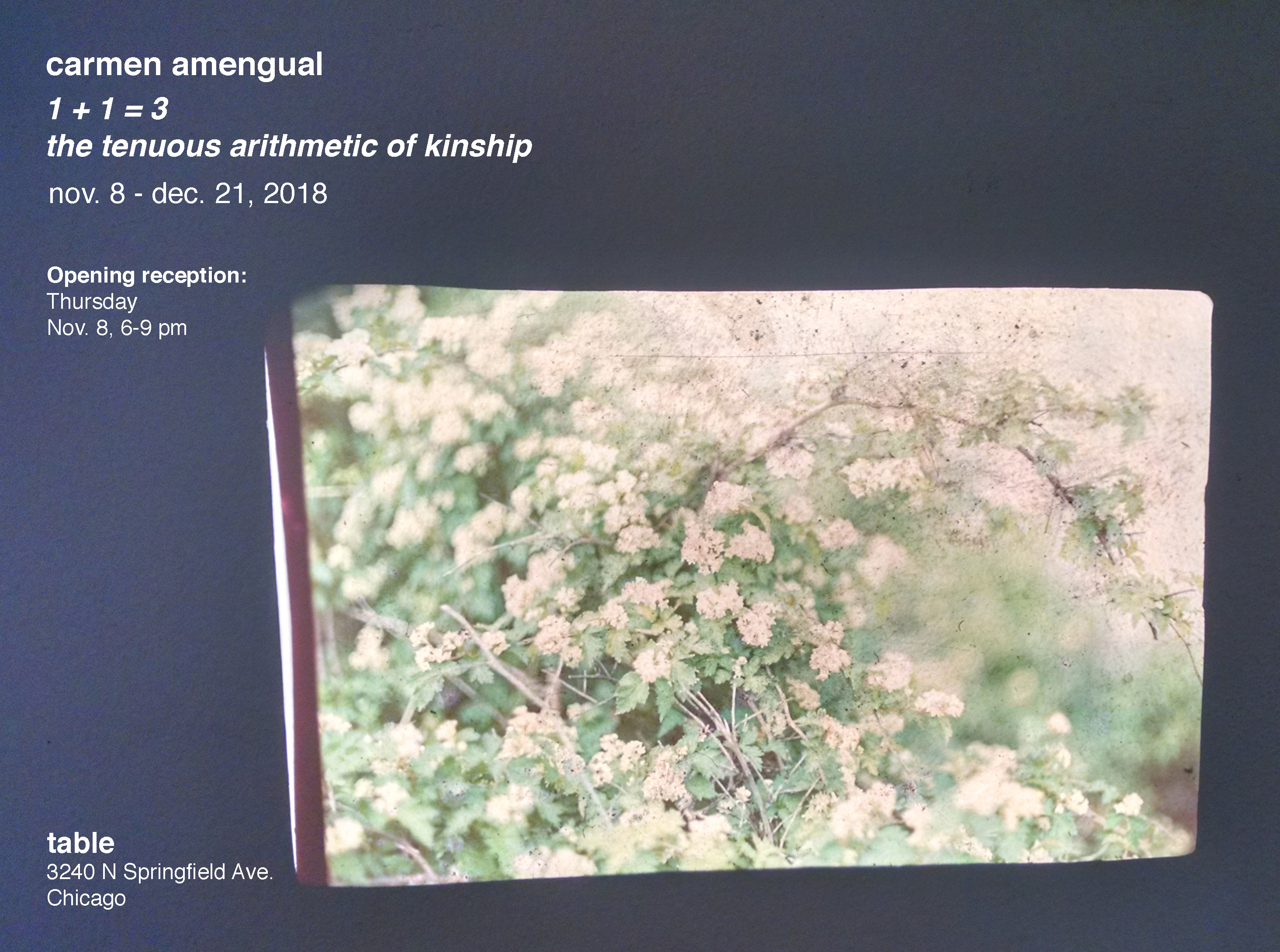 EXHIBITION

The Ages
opens this Saturday, June 23rd. at 5pm
Mirasol 1370, Los Angeles
2017
PANEL

October 22
The Words of Others. Book launch and panel discussion Ruth Estévez, director of the gallery at REDCAT, and curator of the exhibition
The Words of Others: León Ferrari and Rhetoric in Times of War
, will lead a discussion with Jen Hofer, one of the Antena-affiliated translators of the book, and Carmen Amengual, researcher, about the process behind the making of this piece, as well as the practice of collage as a political strategy in the work of Ferrari, and in the broader context of the 1960s and 1970s.
REDCAT
PERFORMANCE

September 16
1-8 pm
I will be participating in the reading-performance
The Words of Others (Palabras ajenas)
by León Ferrari at REDCAT, Los Angeles
CURATORIAL
LATlab presents
I Come From Where the Palm Tree Grows
Organized by Molly Surazhsky
June 16th
7-10 pm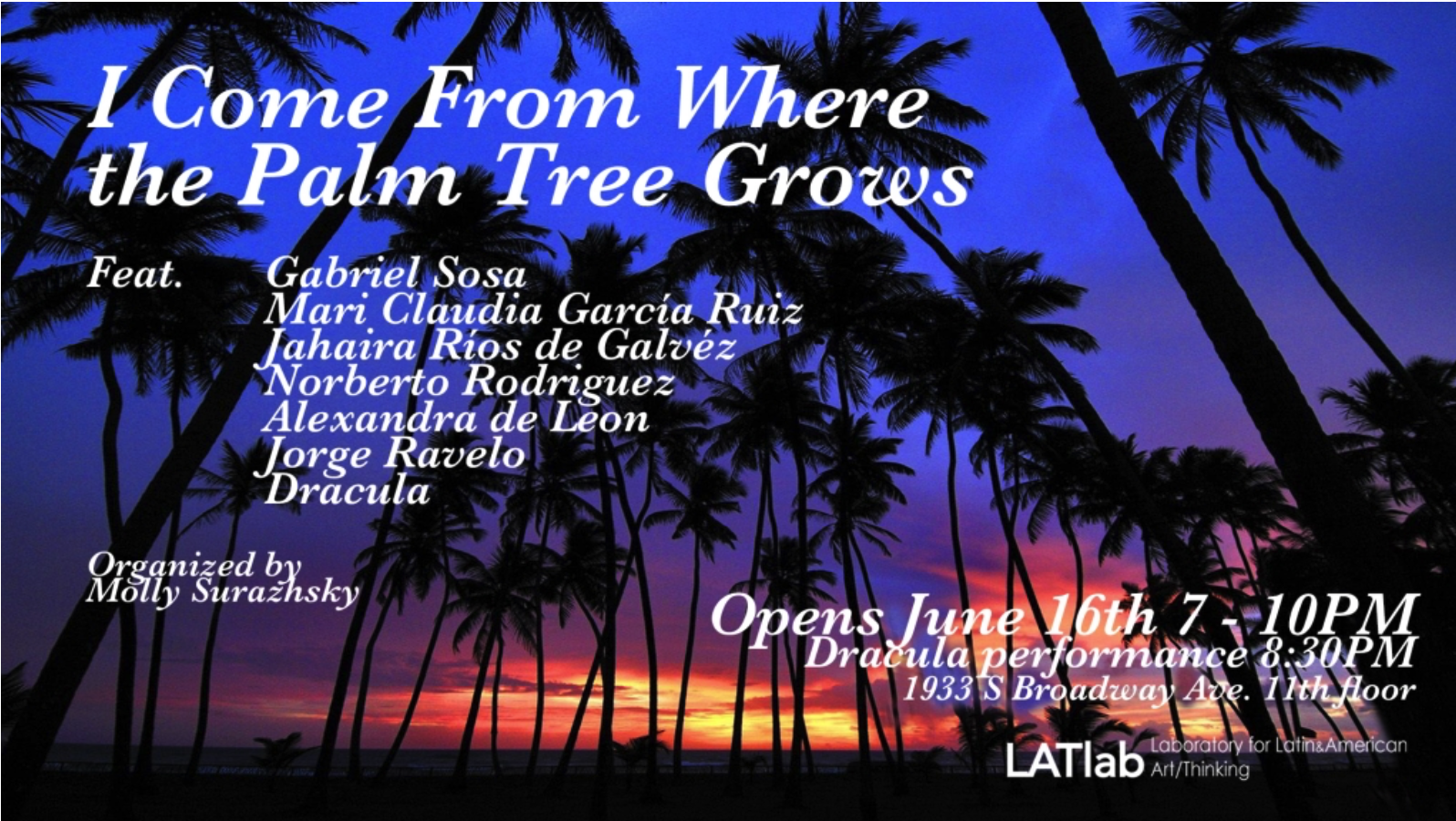 CURATORIAL
LATlab presents
Juliana Luján and Julio Orta
Friday, April 14th
7-10 pm
2016
RESIDENCY

Artist in Residence,
CalArts REEF Residency, Maker City LA
GROUP EXHIBITION

Exit Interview, CalArts MFA exhibition
June 25, 6-9 pm
Human Resources, Los Angeles