works

Before my, your, her, his, our, your, their faces
Delante de mis, tus, sus, nuestros, vuestros, sus rostros
2022

As with many countries in what is currently known as the Global South, 1973 was a pivotal year in Argentina. The return of General Perón, after 17 years in exile and the prohibition of his party, generated big hopes among a very active and highly organized leftist movement. The hopes were short-lived. The September 11th coup in Chile, and Perón's conservative turn quickly proved that Christian conservative alliances, and the definitive U.S. intervention in South America would ensure the prevention of any socialist developments in the region.

Before my, your, her, his, our, your, their faces is a three channel video installation that looks at this period based on a set of letters that the artist's mother received from friends while she was living in Paris, and later, in Algiers.



The voices in the letters discuss some of these major historical events - alongside personal matters. Their language depicts a complex landscape of affective textures, one that speaks of how subjective positions arose from a collision with historical events, and of how micro-political emancipatory drives intertwined with macro-political and collective movements.
By once again giving texture to these letters' language -through animation, songs and textual strategies- the piece is a reflection on the historical nature of our present. Through amplifying these voices' echoes, their hopes and contradictions, it seeks to articulate the historical riddle they were entangled with. Its aftermath is our present. May the crumbles of their dreams give us a sense of orientation.
Before my, your, her, his, our, your, their faces, 2022. Installation view.
Everything is Common, Whitney ISP 2021-22 Studio Program Exhibition, Artists Space, New York, 2022.
Image credit: Steven Cottingham
Carmen Amengual, Before my, your, her, his, our, your, their faces, 2022
Stills from video.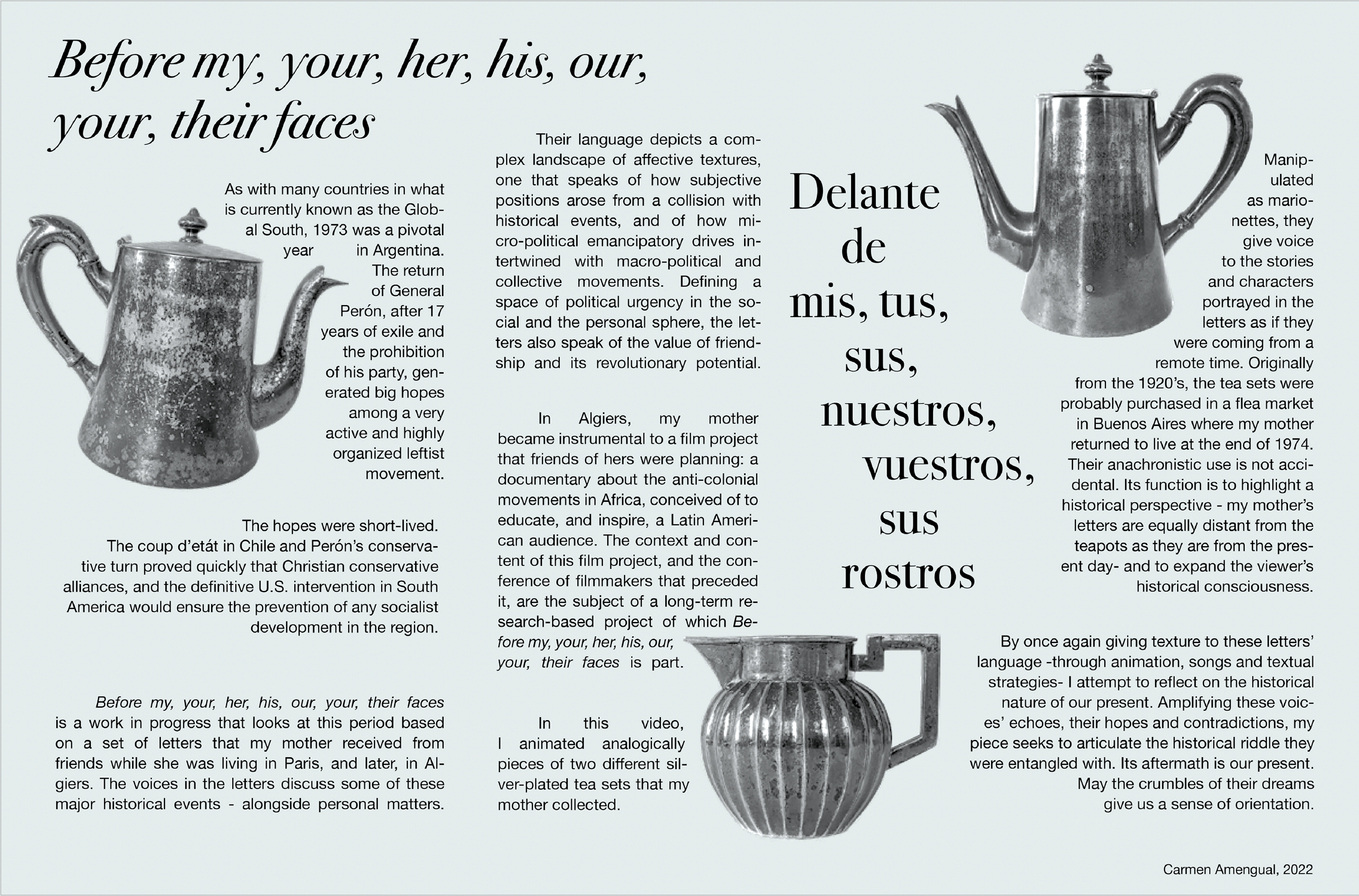 Before my, your, her, his, our, your, their faces, 2022. Exhibition brochure.